When it Comes to Kalamazoo Pizza Delivery, You Don't Have to Settle!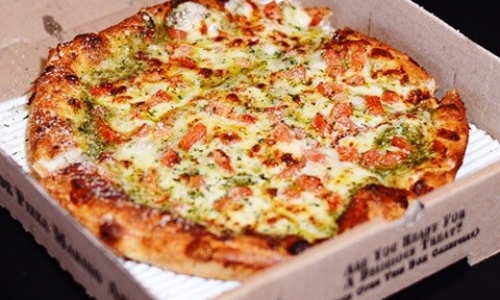 There are a lot of options for pizza delivery in Kalamazoo. Whether you're looking for a deep dish loaded with all the meats or a more delicate vegetarian margarita pizza, there's really only one place in town that can check all of the boxes: Erbelli's! Our award-winning pizzas combined with our sheer love of gourmet Italian food makes us an easy choice. In this post, we'd like to look at five reasons that you should choose Erbelli's as your go-to local pizza delivery option.
1. Bigger selection
Our massive menu doesn't just include pizzas, it includes all manner of classic Italian fare as well as a host of quirky Erbatizer options. From our spicy Q-It-Up Chicken Sammies to our traditional salsiccia soup, our delivery menu leaves no stone unturned!
2. Gourmet pizzas
Our pizzas aren't just good, they're multiple-award-winning good. With options that include The Rhino, a seven meat pizza to the N.E.O., a pizza with a unique Alfredo and pesto sauce, Italian marinated chicken breast and cheese-filled tortellini shells… we're constantly innovating and creating surprising new combinations.
3. Options for special diets
We want everybody to enjoy our pizzas. In the world of Kalamazoo pizza delivery, there aren't a lot of options for gluten-free or vegetarian diners. We've corrected that by offering a full vegetarian menu and the ability to make all of our pizzas and gourmet sandwiches with gluten-free crusts and breads.
4. Monthly specials
Every month, we offer a selection of online pizza delivery coupons to save you money. When time's short and money's even shorter, you can always print a coupon, make a call and have dinner on the table in no time!
5. Beer delivery!
Sometimes you just want to kick back, have a pizza delivered, crack open a cold beer and veg out in front of the television. In those cases, Erbelli's has your back! Delivering a wide range of local and craft beers, we can take care of everything but the relaxing.
At Erbelli's, we strive to be the best option for pizza delivery in Kalamazoo. By regularly expanding our menu, creating more options and offering online discounts, we aim to provide options for everyone looking to have a pizza delivered. So, if you're looking for a quick, satisfying dinner at a reasonable price, give us a call today and get started on your order!