What's Better Than Regular Appetizers? Erbatizers, of Course!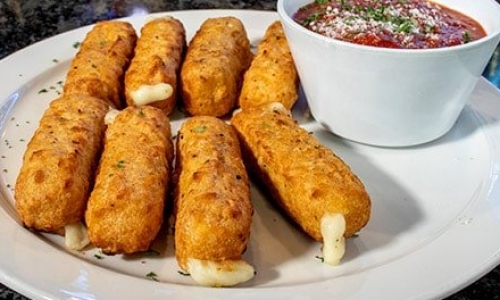 We have over 25 different Erbatizers on our menu and we realize having to choose from all of those delicious options is not an easy task. It's up to you to decide if you want a classic Italian favorite or good ol' bar food. In this post, we will look at five of our favorite Erbatizers to start your meal with.
Portabella pizza                 
These are mini pizzas without the crust. We take two big portabella mushroom caps, clean them out, and baste them with olive oil, garlic, sea salt, and black pepper. We then coat the caps with our homemade pizza sauce. You pick up to three toppings and we cover them with our special blend of mozzarella.
Pulled pork nachos
We take crispy chips and top them with BBQ pulled pork, cheddar cheese, sour cream, and our Texan sauce (a rand and salsa mix) is served on the side.  
Three cheese dippers
We stuff our 10″ garlic buttered pizza crusts with mozzarella, cheddar, and parmesan cheese and bake until the cheese is perfectly melted. We serve with a side of our renowned homemade pizza sauce. Feel free to add pepperoni for only $.99.
Prosciutto bites
We slice and roll prosciutto around fresh mozzarella and bake. Our bites are served atop fresh basil and drizzled with olive oil and balsamic vinegar and topped with oregano.
Erbbie bread
Our Erbbie specialty cheese bread is a crowd favorite, available in 7″, 10″, 12″, 14″, and 16″.
At Erbelli's, we're known for having the best pizza delivery in Kalamazoo – but that's not all. We deliver piping hot items from our menu, including our Erbatizers, right to your door. We'd also love to have you at our Stadium or Portage location. If you're craving our Erbatizers please stop in, order online, or give us a call today.