Try One of Our Five Vegetarian Pizzas for Dine-In or Delivery Today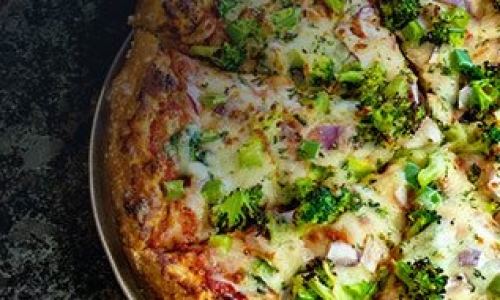 These gourmet pizzas may lack meat, but they do not lack flavor. Whether you're a vegetarian or just looking for a lighter option, our fresh veggie pizzas will not disappoint. With five unique recipes and your choice of four crusts (original hand tossed, pan style, Chicago style, and gluten free), you're sure to find something you and the whole family can enjoy. Now let's see if you can get through the list without your mouth watering!
1. The "Olympia" Pizza
Forget the marinara, we're using olive oil! Combine that with fresh garlic, fresh crumbled feta cheese, black olives, diced tomatoes, green peppers, red onions, fresh basil leaves, fresh ground parmesan cheese, Greek dressing drizzled on top and a touch of kosher salt and ground pepper.
2. The Spinach Alfredo Pizza
Who doesn't love Alfredo? This delicious pizza has our homemade Alfredo sauce, fresh crumbled feta cheese, fresh spinach, and a mozzarella cheese blend.
3. Veg-A-Tino Pizza
This meatless treat is piled high with homemade pizza sauce, white onions, fresh mushrooms, black olives, sliced green peppers, green olives and mozzarella cheese.
4. Super Exotic Garden Pizza
If you're looking to try something different, this is it. It's made with our fresh pizza sauce, broccoli florets, spinach, green peppers, red onions, and mozzarella cheese.
5. Classic Margherita Pizza
Don't tell the others, but this is my personal favorite. Inspired by a trip to Italy, we worked to create the delicious Margherita pizza we had eaten there. We start it with a thin layer of our homemade pizza sauce, add buffalo mozzarella cheese, tomato slices, fresh basil leaves, and top it off with a touch of kosher salt, ground pepper, and a drizzle of olive oil.
It may sound cliche, but here at Erbelli's, we have something for everyone to enjoy. Whether you want to dine-in or have piping hot pizza delivered to your home or office – stop in, give us a call, or order online!