Throw a Party with the Best Gourmet Pizza in Kalamazoo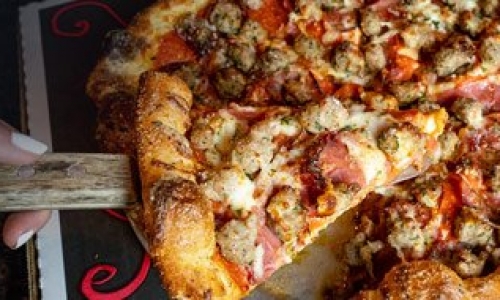 Everyone loves a good slice of pizza, and if you have a birthday, family get-together, or are just planning a night full of great food with friends, then you'll want to have the best gourmet pizza in Kalamazoo with Erbelli's. We love when our food can bring together friends and family, and the options we offer make sure that there's something for everyone in your group.
Ordering made simple
With online ordering and phone orders as well, Erbelli's can quickly take your order and get the food for your party in the oven. We have provided quality service and efficient delivery for years, and can accommodate any personal request that you might need. With catering offered as well, you can order the right amount of food for your group and get all the flavors from the best gourmet pizza in Kalamazoo.
Bring the party to us
Don't have enough space anywhere to host your party? That's okay! Erbelli's has a party
room at our Kalamazoo location that is the perfect space for you and your group to have a great time while enjoying the best gourmet pizza in Kalamazoo. Available Sunday through Thursday 9AM to 10PM and Fridays and Saturdays 9AM to 5PM and 9PM to midnight, there's plenty of options for you and your party to choose from to get in and enjoy time spent together.
For adults and kids
When you come to the party room at Erbelli's, it's a great time for everyone involved. With plenty of delicious options on our menu, kids can choose from the kid's menu section, or any of our delicious pizzas. With a bar offering all the best options, adults of the party can enjoy the best gourmet pizza in Kalamazoo all while enjoying a drink.
With a wide variety of custom-made pizzas and specialty topping combinations, it's easy to see why Erbelil's has been the best gourmet pizza in Kalamazoo year after year. Whether you're coming in to grab a slice by yourself or enjoying a pizza with friends, Erbelli's has what you're craving.