The Best Pizza Restaurant in Kalamazoo Provides Meals for the Whole Family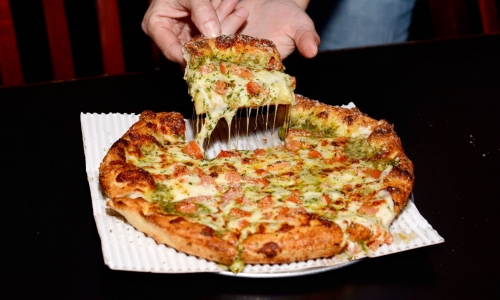 When you want the best pizza restaurant in Kalamazoo, you should choose the one that offers options for your whole family. Pizza is always more enjoyable when you have the company of those that you are close with, and Erbelli's in Kalamazoo and Portage offers options for everyone to have a great meal and enjoyable experience.
No matter your dietary restrictions or favorite tastes of your group, Erbelli's has something for everyone to be able to enjoy their meal at either of our locations. With a great atmosphere and the best pizza around, you are sure to have a great time every time you visit.
For the adults and the kids
When you bring your family in to the best pizza restaurant in Kalamazoo, you can find great tastes for the adults as well as your children. Erbelli's offers calzones, subs, gourmet pizza in different styles, delicious pastas, and more that adults can enjoy. For the kids, Erbelli's offers a special menu that includes some favorites for the little ones, such as mac n' cheese, mozzarella sticks, buttery noodles, chicken tenders, and more.
If the whole family enjoys the same type of pizza, that is fine too! Everyone can share a slice of the same great pizza while also sharing with each other what they think about it. Erbelli's isn't just a great pizza place, but a great family experience as well.
The best pizza restaurant in Kalamazoo accommodates
Erbelli's is the best pizza restaurant in Kalamazoo because it offers great options for pizza that everyone can enjoy, no matter what dietary restrictions they might have. We offer a variety of gluten-free options for those with an intolerance, delicious vegetarian options for those who don't, or can't, eat meat, and more! We do our best to accommodate every guest, so make sure to ask our team for assistance with the menu if you need it!
No matter what you get from Erbelli's because of your dietary restrictions, you are sure to love what you get. Each dietary option is made with the same care and attention that our regular options are, so you know you always get the best experience with us.
The best pizza restaurant in Kalamazoo should always have great options for every member of families, and Erbelli's provides this every time you visit. Take a look through our menu to see some of the great options that we offer, or contact us today to get started on an order!