Stay Warm this Winter with Pizza Delivery in Kalamazoo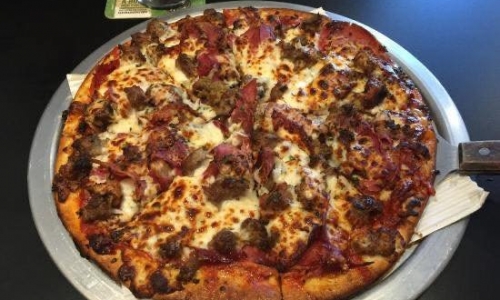 As temperatures continue to drop and going outside can seem less and less appealing, you can stay warm inside and fill cravings this winter with pizza delivery in Kalamazoo from Erbelli's. The number one choice for pizza for many in the Kalamazoo and Portage area, Erbelli's can provide you and your family with excellent options this holiday season that can be brought straight to you, so you don't have to brave the cold. Focused on making every dining experience great, you can count on Erbelli's to bring you hot and fresh pizza when and where you need it.
Get everyone's favorites every time
No matter what you or your family are in the mood for with your pizza, Erbelli's has options for everyone. From a classic meat-lover's pizza to a unique experience like our New Erb Order pizza, there are flavors to match every palate. And, with one of the biggest varieties of options for customers who want to build their own pizza, you can find hundreds of combinations that you will love. Whatever your preference, Erbelli's will get it made quickly and sent on the way to give you a delicious lunch or dinner that can keep you warm by avoiding going out in the cold.
A legacy of local excellence
With multiple awards of having the best pizza in Kalamazoo, Erbelli's is the obvious choice when you are considering pizza delivery in Kalamazoo. Our dedicated team takes care of your order quickly and efficiently while putting together some of the best tasting pizza you have ever had. Every pizza is made with care, guaranteeing a great experience every time you order. As snow continues to fall outside this winter, you can avoid the cold more easily knowing that Erbelli's is here to offer you a great meal when and where you need it. Always dedicated to great customer service and quality pizza, you won't find a better delivered meal with winter than with us.
Experience and a commitment to quality pizza delivery in Kalamazoo are just a few parts of what make Erbelli's the number one choice for pizza this winter. If you hate going out in the cold and are looking for a delicious meal that you can enjoy from the comfort of your own home, consider starting an online order or giving us a call today! We look forward to serving you the best pizza in Kalamazoo.