So Many Subs – So Little Time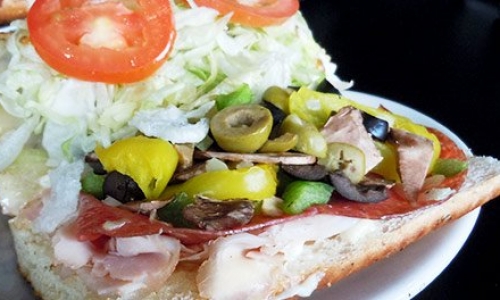 It doesn't matter what you grew up calling submarine sandwiches – a hoagie, grinder, hero – or even if you think of them as a po' boy, blimpie, or an Italian. However you say it, at Erbelli's we've got a mouthwatering array of sub choices for you. You could even have a different sub every day for an entire month!
Amazing Ingredients
If you don't know it yet, at Erbelli's we're serious about sourcing amazing ingredients. You can choose from 3 in-house-fresh-baked breads; zesty Italian parmesan & cheddar, honey wheat, and white Italian. We make homemade BBQ sauce, marinara, and alfredo. Heck even our buttermilk ranch and Italian dressings are made in house so that we can bring the best flavors to you. Our mozzarella comes fresh from the cheese experts in Wisconsin. The chicken on Grilled Chicken Breast, the "Inferno", the "Cowlishaw", and the Chicken Carbonara subs are all topped with fire-grilled chicken from our friends at "Q It Up". We're thinking about every item on your sandwich, from the bread holding it together to everything inside.
Endless Variety
With over 30 subs on the menu we have something for everyone's taste buds. We're proud to offer several vegetarian options, and most can be made gluten free with our 6″ gluten-free roll. A great sub menu wouldn't be complete without classics like the Italian Sausage Sub and the Club Sub (yeah, we like the rhyme too). We all love the classics, but we've developed many signature subs you'll only find here. Your sub adventure won't be complete until you've tried our "Paul Bunyan", the Sloaner, and the Hot Napoleon. Check out our Sub Menu for all the tempting details for those choices.
Wow, after all this talk of submarine sandwiches, it's got to be time to eat. Get your order in at Erbelli's!