Planning a Group Function? Check out the Erbelli's Party Room!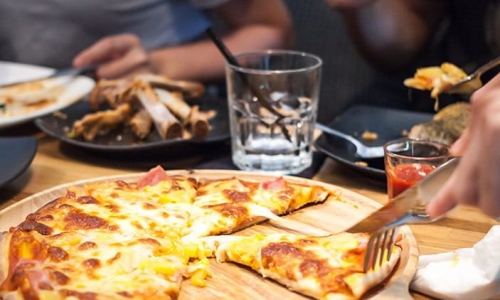 Are you looking for the perfect venue for a family reunion, work gathering or birthday party? You'll be happy to hear that Erbelli's, famous for our gourmet pizzas, has a party room in our Kalamazoo, Michigan location. With the ability to accommodate up to fifty people and open availability, our party room is a great place to sit back, enjoy the company of your friends and experience the best pizza in Kalamazoo.
Offering several menus, from pizza and a salad bar to pizza, pasta and a salad bar, our party menu gives you the flexibility you need to satisfy even the pickiest of eaters. Anyone who has become familiar with our massive online pizza delivery menu is no doubt already aware of our unique offerings and our authentic Italian classics. From the award-winning "Smooth Ace" pizza that features Alfredo sauce, chicken breast, pepperoni, mushrooms, capicola, bacon and feta cheese to our fresh vegetarian lasagna, all of our most popular items can be served at your gathering.
We know how difficult it can be to find a quiet, private place to host your group functions. That's why our party room is perfect! Fully secluded from our dining room, you can utilize the entirety of its space for your event. Whether you're pumping up your employees to meet their current sales goals or you just want a peaceful, reserved space to celebrate a historic family occasion, our party room helps to ensure that your event will be a big hit with attendees.
At Erbelli's gourmet pizza in Kalamazoo, we aim to create a genuine, memorable Italian dining experience. With the importance of family, coworkers and social circles, we believe that our party room perfectly captures the Italian ideals of closeness and commitment. If you've been looking for the perfect location for your next group function, contact us today to book your spot in our party room.