Pizza Night, Made Even Better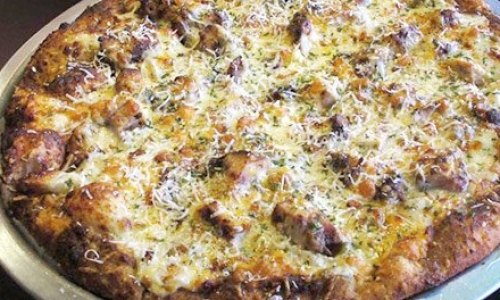 We all love the convenience of pizza night. Whether you're a weekly regular or like to call in on the spur of the moment, pulling that first hot slice out of the box is always a happy moment. If you want to make pizza night even easier, we recommend our Online Ordering. You can order all of our specialty gourmet pizzas or create your own just how you want them, and get them delivered when you want them, through our online ordering app.
Sometimes designing the perfect pizza with friends or kids shouting suggestions while you're on the phone can be a bit stressful. For some reason, even when you think you're ready to order, those last minute changes can pop up. Our online app will guide you through the ordering process, from asking if you want to pick-up or have your pizza delivered to dialing in different toppings on half of your pizza.
Even better, you can order ahead. If you want to check ordering lunch or dinner off the list, you can go online and have it delivered or pick it up when you want it! Place your order when it's most convenient and we'll have gourmet pizza ready for your pizza night.
Erbelli's, while known as the best pizza in town, is also famous for our awesome pasta, wraps, subs, salads, and desserts! It's easy to add these to your order online. We're happy to add some of our Spicy Sunset BBQ wings, or some Erbbie Bread with a side of Texan Sauce. And under Extra Sides you can even let us know if you need plates, napkins, and silverware.
Take your time, check out the coupons and promotions, and get everything you want – including the salad and dessert. Just another way we're working hard to be the best pizza in Kalamazoo, Oshtemo, and Portage!