Our Fresh Gourmet Pasta is Perfect for Dine-In or Delivery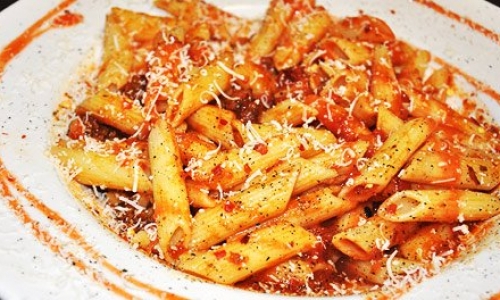 We make our delicious tomato sauce fresh daily. We begin by sauteing fresh onions and olive oil and then we add fresh blended California tomatoes and our special recipe of herbs and spices, this tomato-y goodness is constantly stirred and simmered on low for two hours. Our classic fresh tomato sauce is, of course, our favorite. Now, with that being said, our other sauces are absolutely delicious in their own right. In this post we will look at some of our favorite pasta dishes – all served with toasted fresh garlic bread.
Picante Pesto Chicken Pasta
This dish is great for those of you who like a little spice. It's made with spicy "Q It Up" chicken, homemade pesto, romano cheese, and fresh penne.
Erbelli's Famous Lasagna
This classic recipe is made with fresh lasagna noodles, our fresh tomato sauce, ground beef, ricotta, fresh mozzarella, and romano cheese.
Campania Pasta
A cold pasta dish is a great option for a hot summer day. Made with diced tomatoes, fresh basil leaves, fresh mozzarella, kosher sals, fresh black pepper, extra virgin olive oil, balsamic vinegar, and penne pasta.
Baked Spaghetti
This is a delicious twist on a classic. Spaghetti noodles, meat tomato sauce, fresh mozzarella, and pepperoni are baked together in the oven to create a golden brown cheese topping.
Fettuccini Alfredo
You have to try this one with chicken. It's made with fresh linguini and our very own award-winning alfredo sauce.
Greek Spaghetti
Like the Campania, this dish is best served chilled. We combine spaghetti, feta cheese, black olives, green peppers, red onions, oregano, and olive oil.
At Erbelli's, we have won a lot of awards for our food, but that doesn't mean we're complacent. We are constantly learning and growing in our craft to provide you with the best Italian food outside of Italy. If you're in the mood for Italian food in Kalamazoo, stop in, order online, or call us for delivery today!