Make the Most of the Holidays with Pizza Delivery in Kalamazoo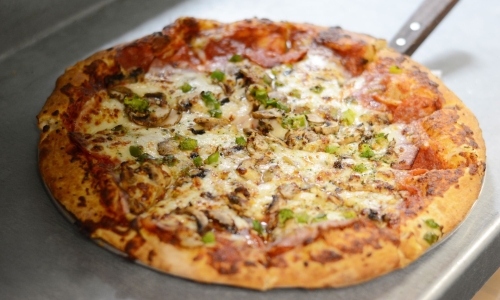 With Christmas having just passed and a New Year a few days away, you can still make the most of the holidays this year with pizza delivery in Kalamazoo. The holiday season is a time of gathering and good food, and there's no better food to be enjoyed with others than a delicious, gourmet pizza.
Erbelli's proudly serves the Kalamazoo and Portage areas with handcrafted pizza that can't be beat. When you want a great meal that everyone will enjoy during the holidays, Erbelli's pizza is your best choice to feed the whole family.
Get the full spread
When you choose pizza delivery in Kalamazoo for the holidays, you want to be sure that you choose a pizzeria that has everything that you could want. Rather than simply order a pizza with a couple of the usual toppings, a gourmet pizza restaurant with all the fixings, as well as some other great options can make all the difference.
Whether it's a calzone that fits your fancy, a tasty submarine sandwich, fresh pasta, or even a large salad, Erbelli's has a variety of options outside of just pizza for delivery to allow every customer to find exactly the choices that fit their craving. We supply every family with what they need to make the most of the holidays through excellent food.
Enjoy company
When you're pressed for time during the holidays, having to worry about making a meal for a large group is often a huge point of stress that can be avoided when you order pizza delivery in Kalamazoo. Instead of cooking, you can instead focus on spending time with family with gift giving, sharing memories, and more.
Whatever type of event you have, big or small, the team at Erbelli's can help. From simple online orders to catering for a large event, our team has the capability to provide the best pizza in Kalamazoo. By serving our customers to their specifications, we ensure they enjoy the holidays with their families without worry of fine food.
Erbelli's pizza has over two decades of experience providing the best tastes and the best service with pizza delivery in Kalamazoo. Any family planning a get together throughout the New Year for the holidays can count on us to provide great pizza and more. Contact us today to schedule any catering needs or to discuss options for a future delivery!