Gluten Free Pizza, Delicious and Affordable Options from Erbelli's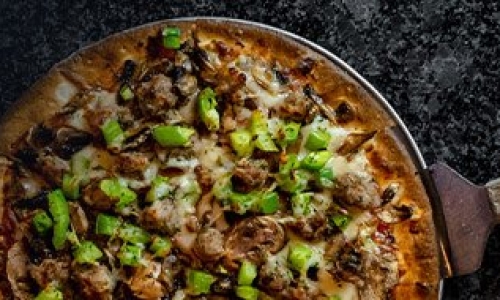 In the past, we received a lot of requests to offer gluten free pizza. We know that many of our Kalamazoo customers adhere to certain dietary restrictions that would normally prevent them from enjoying our gourmet pizzas. To offer our pizzas to the widest audience, we've created our very own gluten free pizza recipe! Now, anyone and everyone can savor the hearty Downtown New Yorker pizza or the spicy Disco Q pizza.
Gluten free pizzas
Let us tell you: it's tough making a great gluten free pizza. We tried a fistful of recipes… from egg-based to brown rice and everything in between. Often, they'd turn out too eggy, like an omelet or too gritty, like stale bread. In the end, we discovered that the secret to a great gluten free pizza crust is tapioca flour. Tapioca flour results in a perfect crust: crispy on the outside, chewy on the inside and with a natural, slightly sweet flavor.
Not just gluten free pizza
But we didn't stop with gluten free pizza! We wanted our gluten free diners to have options… to be able to enjoy the full experience at Erbelli's. As a result, we decided to offer gluten free pasta, gluten free subs and salads, as well. From our traditional spaghetti with meat sauce to our hot Napoleon sandwich, we've made every effort to include all of our beloved items on our gluten free menu.
At Erbelli's, we wanted to offer Kalamazoo gluten free pizza that took their breath away. After a long, arduous process of experimentation, we're finally excited by the results that we've achieved. Now, we can confidently say that we're the best pizza place in Kalamazoo for everyone, regardless of their dietary restrictions or preferences. If you've been looking for a great place to take the family for dinner but you're worried about leaving someone out of the fun, we encourage you to stop in and try one of our gluten free pizzas!