Five of the Best Times to Order Pizza Delivery in Kalamazoo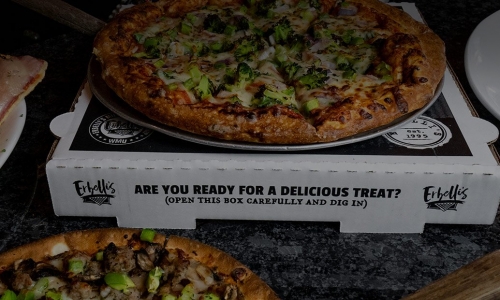 1. As a delicious work lunch
Sometimes by lunch time, it already feels like the day is dragging on. And what's better than a delicious gourmet pizza delivered to your office to enhance your mood? It's also nice to surprise or reward your employees or coworkers with the best pizza in Kalamazoo for lunch.
2. After a crazy day at work
No one feels like firing up the stove when they get home from a long day at work. You just want to sit back and relax without having to worry about what you are going to make to eat. To make things even easier you can order our gourmet pizza and other menu items online from your phone, tablet, or computer.
3. To celebrate a big win
Pizza and sports go together and all kids love pizza. After little league, rocket football, softball, there is no better way to celebrate a big win (or harrowing loss) than with some hot, fresh Erbelli's pizza.
4. To celebrate a special occasion
Whether it's a birthday, holiday, or any other celebration, pizza is a great choice. With pizza you can please everyone because everyone loves pizza. There are even gluten free and vegetarian options for those with diet restrictions. If someone at the celebration is on a low carb diet, you can always spring for one of our many low carb wraps to satisfy their hunger.
5. When you're hosting guests
There is always a lot to do when you're hosting guests. The house needs to be spotless and the guest rooms and bathrooms made up. Food also needs to be planned and purchased for their stay. No host wants to have to cook every meal or go out for food the whole time – instead go with pizza delivery in Kalamazoo!