Find A Gourmet Pizza for Any Occasion With the Best Pizza Restaurant in Kalamazoo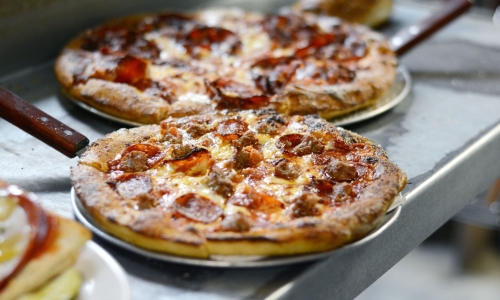 When it comes to pizza in Kalamazoo, not many can compare to Erbelli's. Whether your sitting down with your family to eat a nice dinner, grabbing a pizza to feed your friends at a party, or just ordering pizza delivery, Erbelli's pizza will always offer the best pizza in Kalamazoo, no matter the occasion.
There's A Pizza Here For Everyone
It's no secret that pretty much everyone loves a good slice of pizza, and at Erbelli's, you'll be able to find the best options to make the perfect pizza. With great toppings from prosciutto, BBQ pork, and Shocker Pepperoni for the meat lovers, to fresh spinach, fresh diced tomatoes, and roasted garlic for the veggie lovers, and a myriad of sauces, Erbelli's has a bit of something for every pizza lover.
Its not just the toppings, Erbelli's serves its pizza with five different styles of crust, including hand tossed, pan style, square, Chicago stuffed, and even Atkins style so that you can get your pizza in the shape that you want it.
Dietary restrictions shouldn't stop you from enjoying a good meal, at Erbelli's we have great vegetarian options so that nobody has to feel left out on the experience. With gourmet vegetarian options like Greek and Classic Margarita Pizzas, and gluten free crust options, everyone can enjoy the best pizza Portage and Kalamazoo has to offer.
More options than Just Pizza
If it isn't the best pizza in Kalamazoo that you're looking for, you can still try the best Italian cuisine. Erbelli's has more to offer than just pizza. From calzones and sandwiches to pasta and salads, there's always a something on the menu for everyone to enjoy.
A Great Place for Family and Friends
There's no better way to enjoy the best pizza in Kalamazoo than with good company, and with restaurant locations in Kalamazoo and Portage, there's no better place to enjoy pizza with close friends and family than at Erbelli's. Want to have a private event with a larger group of people? Erbelli's offers a reservable party room available from Sunday through Friday with no charges or deposits on reservation.
Locally owned and serving Kalamazoo and Portage since 1995 Erbelli's has been a staple of Kalamazoo for almost three decades, providing gourmet pizza and more. Enjoy the best pizza in Kalamazoo, contact us today for more information.