Fill East Side Cravings with the Best Detroit-Style Pizza in Kalamazoo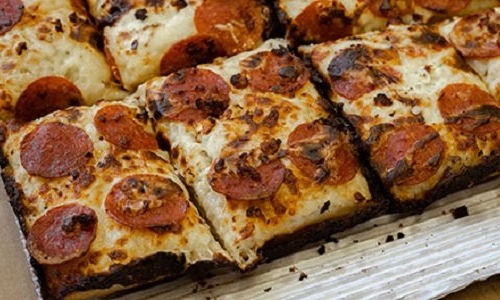 Whether you are from the east side of Michigan or are simply craving some of the tastes that come from the area, you can fill those cravings with the best Detroit-style pizza in Kalamazoo at Erbelli's. Made in the style that you love, the Detroit-style pizza from Erbelli's gives you the perfect option for the taste of the east side right here in Southwest Michigan. Our pizza is made authentic to give you all the flavors and feelings that only a Detroit-style pizza can offer.
The pizza crust that counts
We have all seen pizzas that have been called "Detroit-style" that did not have a thick, crunchy bottom layer of crust, and they sadly cannot fill that craving for an authentic east side slice. When you order with Erbelli's, your Detroit-style pizza always has the crispy, delicious crust that you can count on, overflowing with melted cheese and delicious toppings. Whatever style of pizza is your favorite for toppings, you can always depend on the fact that the crust underneath will be cooked to perfection, giving you the satisfying, crunchy texture only a Detroit-style pizza can give with every bite.
Options for the best Detroit-style pizza in Kalamazoo
Like with our regular gourmet pizzas, you can count on the flavor combinations from your options at Erbelli's when you order the best Detroit-style pizza in Kalamazoo. Whether you order a small with four slices or a large with eight, you get the delicious spread of toppings and flavors that will have you coming back for more. We offer a variety of choices of pizzas for you to try, all with different toppings to give you a different, but great experience with each one. Or you can choose your own toppings and make your favorite pizza from back home on the east side. Whatever you choose, you will always get an authentic, Detroit-style pizza experience that is sure to satisfy.
If you have been craving an authentic, delicious Detroit-style pizza, look no further than Erbelli's. With over two decades of experience perfecting our recipes and providing the best pizza in Kalamazoo to our customers, you know you can count on us for your Detroit-style cravings. Whatever tastes you want, you can find with the toppings options that we offer. Order online with us or reach out on our contact page to answer any questions you may have.