Expand Your Tastes with Pizza in Portage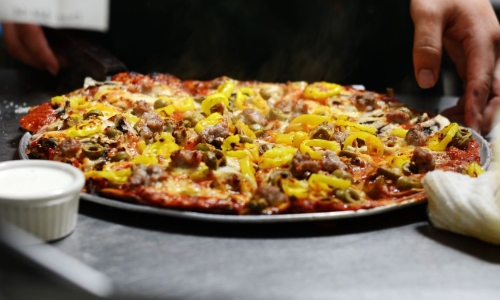 Ordering pizza in Portage doesn't have to be a boring affair, and Erbelli's makes it exciting through a variety of flavor combinations that you may have never tried before. Our team is always striving to push the limits of what pizza can be, so our gourmet pizzas are a testament to that drive with options that are both traditional and others that are uniquely "Erbelli's."
Whether you have tasted the best pizza in Kalamazoo and Portage before or are a first-time enjoyer, we encourage you to try something new and exciting next time you visit!
What's on the menu
Erbelli's carries a wide variety of toppings for you to choose from that can help you expand your tastes with pizza in Portage. We carry all the traditional options, but, if you want to make it more interesting and try something new, you can mix and match non-traditional ingredients when you build your own pizza. Ever considered pizza with Sriracha or Frank's Red Hot as the sauce? What about a sun-dried tomatoes or fresh broccoli florets as toppings?
Whatever you want to experiment with, Erbelli's has the veggie, meat, cheese, and sauce options to allow you to experiment with a variety of flavors.
Try our different creations
If you would rather trust our team's combinations than try to make your own, we have fun, non-traditional options that our customers love! From our Pizza of the Month which always brings exciting, new flavors, to pizzas such as our New Erb Order that has cheese filled tortellini shells as a topping, there are practically endless options for you to try out when you visit the best pizza restaurant in Kalamazoo and Portage.
Erbelli's is always experimenting with flavor and creating excellent new options for our customers to try. When you want great pizza with fresh ingredients that are sure to exhilarate your taste buds, count on Erbelli's and the great flavors we offer.
Whether you dine in or order out, Erbelli's has options for you to expand your taste with the best pizza in Portage and Kalamazoo. We have proudly served the community with excellent flavors for over 20 years, and we continue to develop new flavors each year. From award winning combinations to pizzas of your own creation, we encourage you to stop in today and taste the difference that quality ingredients and a unique mix of toppings can make.