Erbelli's Offers a Wide Variety of Deliciously Fresh Wraps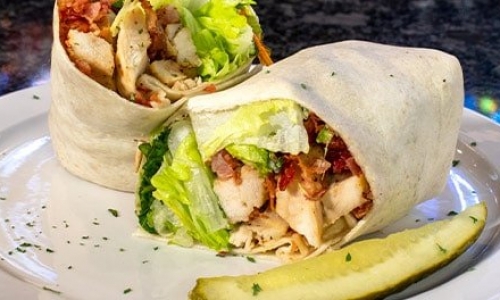 Sometimes not everyone in your family is in the mood for pizza in Kalamazoo. Crazy – we know! At Erbelli's we have a big selection of fresh that everyone is sure to enjoy. In this post, we will take a look at five of our favorites. To see all of our wraps, you can check out our menu here.
1. The "All Mine" Wrap
One of our favorites! Breaded, crispy chicken tenders are baked until golden brown with cheddar cheese, crisp shredded lettuce, fresh diced tomatoes, and our homemade buttermilk ranch, all held together in a fresh tortilla. You can add spicy "Q It Up" chicken for only $.75.
2. The "Bonfire" Wrap
This wrap features the incredibly flavorful hot and spicy chicken from "Q It Up." The chicken is covered in Frank's Red Hot, our homemade buttermilk ranch, fresh black pepper, cool shredded lettuce, fresh jalapeno peppers, and cheddar cheese – all in a fresh tortilla.
3. The Atkins Chicken & Bacon Wrap
If you're watching our carb intake, this wrap is perfect for you – there are only 7 carbs in this entire wrap! We take our perfectly cooked, seasoned chicken breast, crispy applewood bacon, fresh onions, crisp green peppers, black olives, fresh lettuce, cheddar cheese, and mayo and wrap it up tight in a fresh tortilla.
4. The Mexi Wrap
This wrap is simple but delicious. We take our bold hot and spicy "Q It Up" chicken and top it with crisp lettuce, fresh tomato, cheddar cheese, salsa, and cold sour cream and hold it together in a fresh tortilla.  
5. The Tuna Wrap
You either love tuna or you hate it. If you love tuna you'll love this wrap. We stuff a fresh tortilla with fresh albacore tuna, crisp lettuce, fresh tomatoes, cheddar cheese and mayo.