Erbelli's Offers a Wide Array of Fresh Wraps that Are Perfect for a Springtime Meal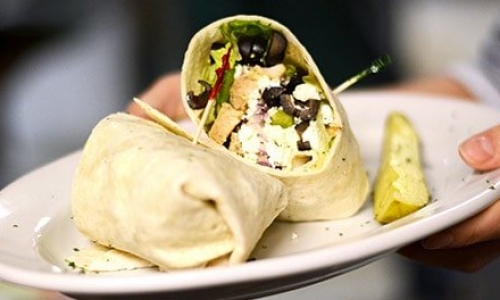 With spring here and summer around the corner, many diners are looking for a light and fresh meal option. Like our award-winning pizzas, our wraps are made of the best quality meats, cheeses, and veggies. In this post, we're going to look at five of our favorite homemade fresh wraps.
1. Chicken Fajita Wrap
This wrap is packed with grilled fajita chicken, onions, cheddar cheese, crisp lettuce, tomatoes, and our very own Texan Sauce all wrapped in a fresh tortilla.
2. Greek Town Wrap
Modeled after our Greek salad, this wrap is filled with grilled chicken breast, sliced green peppers, crisp romaine lettuce, red onions, black olives, feta cheese crumbles, ground pepper, oregano and Greek dressing all wrapped together in a fresh tortilla.
3. Chicken Caesar Wrap
Like the Greek town, this wrap is modeled after one of our favorite salads. The wrap is filled with grilled chicken breast, applewood smoked bacon, crisp romaine lettuce, Romano cheese, and Caesar dressing wrapped up in a fresh tortilla.
4. Bleu Monday Wrap
This wrap is sure to make your taste buds excited. Made with "Q It Up" fire chicken cooked with our homemade bleu cheese, our special bleu cheese crumbles, mozzarella cheese, sharp cheddar and fresh grated Romano cheese all held together by a fresh tortilla.
5. Atkins Turkey & Bacon Wrap
If you're watching your carb intake, this wrap is for you with only 7 carbs for the whole wrap! It has smoked turkey breast, bacon, crisp lettuce, onions, green peppers, black olives, cheddar cheese, and mayo in a fresh tortilla.
As with all of our amazing food, you can come sit down and enjoy it here with us, or have it delivered right to your home or office. We're not only your best choice for pizza delivery in Kalamazoo; we're also your best choice for wrap delivery. So, stop in, order online, or give us a call today!