Erbelli's Launches "Slices for Hunger" to Benefit Residents of Kalamazoo Mission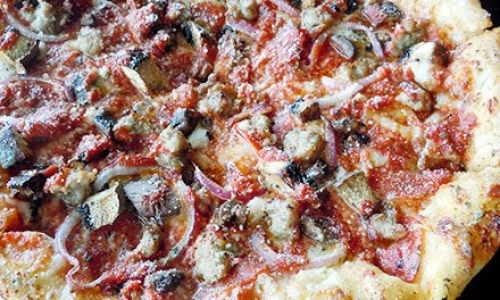 Erbelli's Gourmet Pizza announced "Slices for Hunger," an initiative to fight hunger in the Kalamazoo area. For $1, patrons can purchase a slice of pizza to be donated to the Kalamazoo Mission. An ongoing effort, slices can also be purchased online, through the restaurant's website.
With an estimated 15% of Kalamazoo residents – and over 10,000 children – being classified as food insecure, Greg Erb, Erbelli's owner, decided to act. "Erbelli's is trying to stop hunger one slice at a time in our own community," he said. "We were inspired by the story of Rosa's Fresh Pizza in Philadelphia, who has been doing this for a while, so we asked if we could do the same thing and they told us to go for it!"
Erbelli's, known locally for their award-winning gourmet pizzas, opened its doors in 1995. Since then, the restaurant has grown to several locations, expanded its menu and begun offering catering services. Now, with Slices for Hunger, Erbelli's is taking steps toward making a lasting, positive change in the Kalamazoo area.
Every Friday, Erbelli's will deliver all of the slices purchased – both in-store and online – to the Kalamazoo Mission on North Burdick Street. With plans to expand the initiative's scope and reach over time, owner Greg Erb is confident that the community will rise to the occasion and lend aid those in need. "Thank you," he said, "to all of our customers and friends who have decided to help hungry people in our own community."