Erbelli's Discusses Our Favorite Sandwich Delivery Options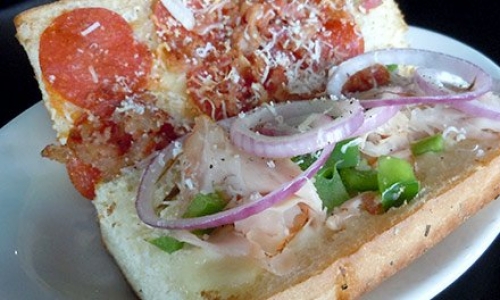 You can get a cold sandwich almost anywhere but sometimes you want to come home from work, hit the couch and have a nice, warm meal. Beyond just pizza delivery, Erbelli's will deliver gourmet sandwiches right to your door. Hot, packed with quality meats and topped with fresh vegetables, our sandwich options are wide ranging. In this post, we're going to look at five of our favorite homemade, gourmet sandwiches.
1. Italian Sausage Sub
We make the sausage. We make the bread. We make the marinara. Topped with fresh Wisconsin mozzarella, this sandwich is guaranteed to be the best, most authentic Italian sausage sub that you've ever had.
2. The Sloaner Sub
Our signature sandwich, the Sloaner features deli-sliced turkey breast, pepperoni, fresh red onions, hickory smoked bacon and much, much more.
3. Philly Steak & Onion Melt Sub
Made with slices of tender ribeye steak and sauteed onions, our Philly cheesesteak is a local twist on an old favorite. As always, it comes on a fresh bun that has been baked in house and is, like all of our sandwiches, also available on a gluten-free bun.
4. The Eight Dollar Sub
This sandwich is no joke. Packed full of everything that we could fit on the bun, it's got ham, turkey, roast beef, salami, olives, mushroom, peppers, onions, banana peppers, two kinds of cheese and more. If you're looking for a sandwich that will fill you up – likely two days in a row – this is what you've been looking for.
5. The "Inferno" Sub
For those of us who are looking for an option with a little heat, our "Inferno" sub is courtesy of our friends at "Q It Up." Topped with their spicy grilled chicken, we finish it off with a little bit of Frank's Red Hot and freshly cut jalapeno peppers.
At Erbelli's, we're not just the best choice for pizza delivery in Kalamazoo, we offer a wide range of gourmet Italian foods, American classics and filling, freshly-made sandwiches. If you've been looking for a change of pace, something more than cold sandwiches, be sure to take a look at all of our awesome delivery options!