Brighten up Your Workday with Daily Dine-In Specials from Erbelli's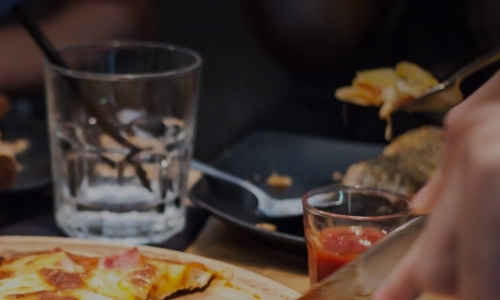 When you're stuck in a drab office for eight hours, sometimes you just need to unwind. A brisk walk around the building, a long drive on your break or a conversation with a coworker are a few good ways to reenergize. But, what about your lunch hour? While ordering pizza delivery is a great way to get some much needed sustenance… what if you want to have a quality meal and get out of the office? Well, Erbelli's daily dine-in specials may be exactly what you're looking for!
With a range of food and drink specials available throughout the day, our dine-in specials are the ideal way to escape the office, spend time with your coworkers and refuel for the rest of your shift. Throughout the week, we offer different items, so you can alternate your visits and enjoy a wide variety of our gourmet Italian foods.
Monday: Great for pizza lovers, we offer a 14″ 1-topping pizza for only $10.99.
Tuesday: For solo visits, you can select any pasta, served with garlic bread, and take unlimited trips to our salad bar for $11.99.
Wednesday: Mix it up with one of our many calzones, only $7.99. If you're feeling daring, we recommend the Pepper Zac!
Thursday: Bring the whole office and get a 16″ 2-topping pan pizza and a small side of cheese bread for just $21.99.
Friday: Celebrate the coming weekend with a 3-topping, 14″ large pan pizza and a large cheese bread for only $21.99.
At Erbelli's, we don't just offer the best pizza delivery in Kalamazoo, we have the best selection of lunch specials around. From our massive pizza lunch buffet to our daily dine-in specials, we've got all of your workday lunch needs covered. If you've been looking to get out of the office and dig into the tastiest Italian food in town, be sure to give us a visit!