5 Easy Steps For Planning A Company Holiday Party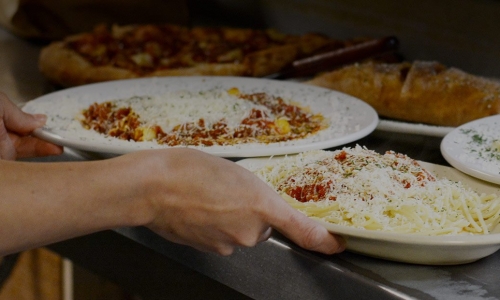 October is the right time to lock in your reservation for the end of year company holiday party. Erbelli's Party Room is a great place to mingle, have a drink together, and enjoy an amazing meal. You'll have the privacy you want to celebrate another fantastic year of working together, and we'll prepare your meal as if you're family guests. It really only takes 5 easy steps to planning the office bonding – joy generating – awesome event other offices will envy.
Pick A Date Early. The earlier you reserve a date on the office calendar the easier it is for your co-workers to plan around it. Poll if you have to, and when you've found one what works give us a call so we can get you locked in on our calendar too. We've got plenty of room for up to 50 people.
Plan The Menu. We make this one super easy for you. We can serve anything from pizza, to salads, to lasagna, and manicotti. When it's cold outside we've got the homemade, delicious foods to satisfy everyone. We can easily accommodate vegetarians and gluten free diets as well. We're sensitive to dietary restrictions and can make sure everyone has a great meal and doesn't feel left out.
Pick A Theme. Your party theme is completely up to your office culture. Go traditional with a Christmas, Hanukah, or Kwanza theme, or if you want to forget it's winter outside for a minute, pick a Mardi Gras or island theme. Let us know you need time to set up decorations and we'll have your room waiting.
Expect The Unexpected. The best and most worrisome moments at a company party come when something unexpected happens. Know that we're here to help and that our staff will be on hand to help you tackle any last-minute issues.
Take Note of What Worked. This step really helps with next year's holiday plan, or even next summer for a company picnic. Your group is unique, and take a moment now to jot down what worked (and even any kerfuffles that you'd like to fix next time). Don't forget to pat yourself on the back. Without you your office mates wouldn't have those fun new memories to look back on.
Reserve our party room for your company holiday party and we'll make sure your venue is welcoming, you can order a beer or a glass of wine, and your guests will have a great time. We look forward to helping with your planning!